Ireland Zoo Plagiarizes Connecticut Artist
FOR IMMEDIATE RELEASE
The Dublin Zoo in Ireland used the original artistic renditions of Connecticut artist Colleen Berry Conway without permission or acknowledgement on the illuminated Ogham lanterns of their 2019 Wild Lights exhibit claiming that because the Ogham alphabet is not copyrighted, artistic renditions are not protectable.
Southington, CT, January 11, 2020 -- Connecticut artist Colleen Berry Conway of Ogham Art was horrified to recently discover that exact replicas of her artistic Ogham renderings were used in the 2019 Dublin Zoo Wild Lights "Stories, Myths & Legends" festival without permission or acknowledgement. Ogham (pronounced "OH-um") is the ancient Irish alphabet deciphered from etched lines found in stones across Ireland, Scotland, Wales and the Isle of Man. After several weeks of communication between Ogham Art's legal counsel and the counsel of the Dublin Zoo, the consistent response was that the Ogham alphabet can not be copyrighted and therefore, any artistic rendering is not protectable.
While Ms. Conway and her counsel agree that the ancient Irish alphabet of Ogham is not protectable, it is undeniable that a unique and aesthetic painting style is not to be copied without consent. Despite providing irrefutable proof that the lanterns are identical copies of Ms. Conway's brushstrokes, the zoo maintains that the lanterns are different in their depiction of the alphabet and refuse credit or recognition.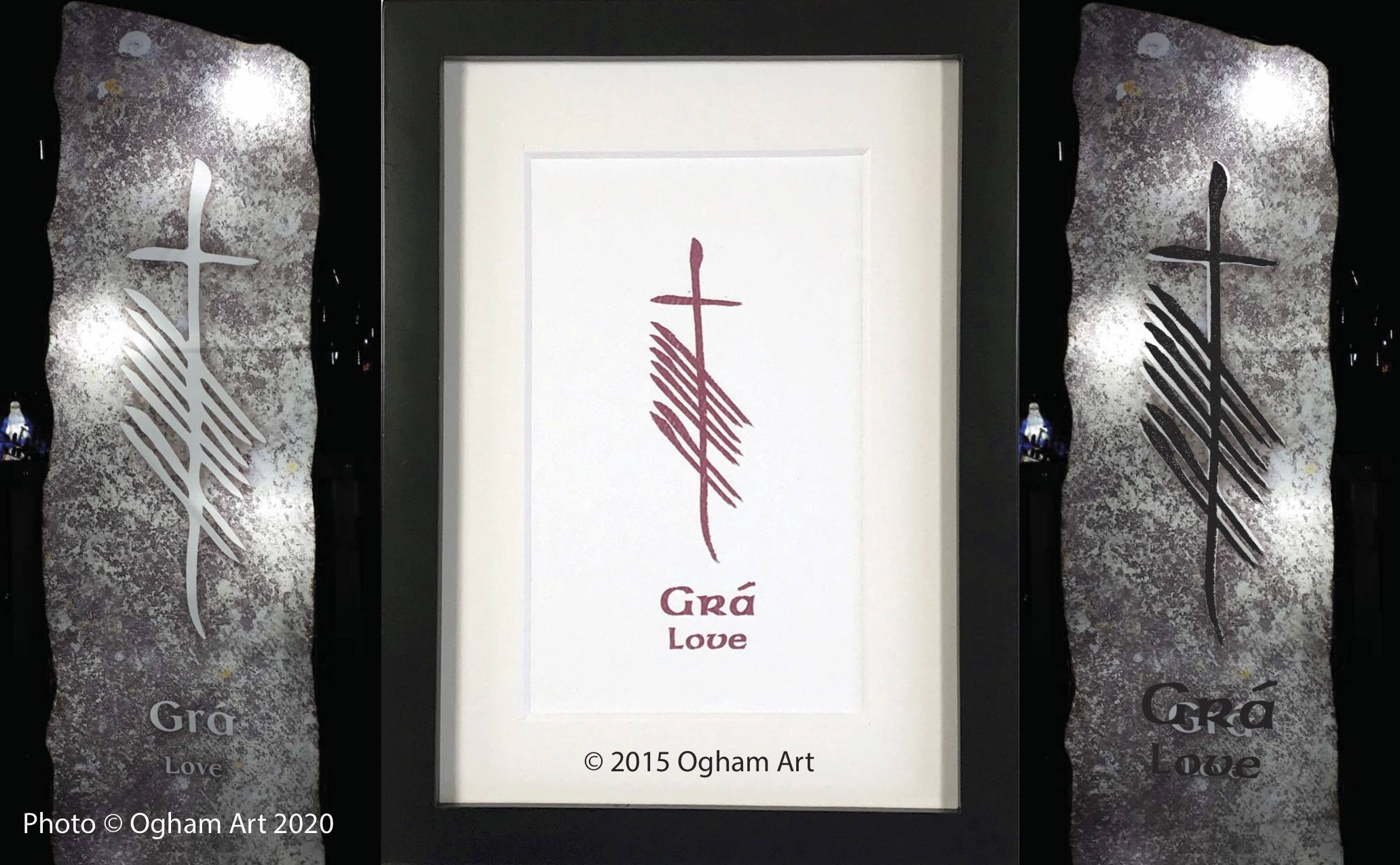 One area of the 2019 Wild Lights exhibit pairs illuminated depictions of Irish myths and legends along with eight (8) illuminated Ogham stone lanterns. While appropriately depicting these two significant chapters in Irish history, the Ogham renderings used on the lanterns are exact replicas of the original aesthetic mark of an Ogham artist used without permission, credit or remuneration. The exhibit dates are November 1, 2019 through January 12, 2020.
The theft of original designs is a constant struggle for artists around the world. From Disney to Dubai, original art is used without permission, depriving artists of the deserved recognition earned through years of learning technique, developing skills and creating a branded mark. "What should have been an absolute honor has turned into a crippling blow to my art," said Ms. Conway. "The Dublin Zoo found my Ogham paintings beautiful enough to feature in their exhibit but denied me the opportunity to celebrate such an achievement by refusing to request permission or acknowledge my contribution."
The Dublin Zoo has admirably contributed to "the conservation of bio-diversity on earth" for 150 years. (Source: https://www.dublinzoo.ie/about/) They are obligated as the largest attraction in Ireland to uphold moral standards, with wildlife and beyond. The integrity of their conservation projects should be extended to any and all exhibits seen by their one million annual visitors, including their Wild Lights experience.
Ms. Conway has added a page to her website, OghamArt.com, to further defend her rights as an artist whose work was used without permission and to document the scope of the zoo's plagiarism www.oghamart.com/pages/dublinzoowildlights2019. This page includes comparison photos of all eight (8) lanterns featuring her artwork and links to other Ogham artists' websites to emphasize the art form's diversity and to encourage support of all small artists. She has launched a full campaign for public support to force the Dublin Zoo to acknowledge the creative aspects of the art form of Ogham in general and her artistic contribution featured in the 2019 Wild Lights Ogham installation. The initial stages of the campaign have shown an overwhelming response of outrage at the zoo's actions and public support for artists' rights.
Excerpts from emails & social media posts sent directly to the Dublin Zoo that have not received any replies or comments from the zoo as of Jan. 11:
"While the Ogham is indeed an alphabet and open to public use, each artist has their own flair and Ogham art becomes much like a fingerprint, beautifully unique to the individual. The manner in which you have blatantly plagiarized her work is appalling and the fact that your organization has refused to rectify the situation shows exactly the character of those in charge. You have taken what could have been an amazing opportunity for an artist, having her work displayed proudly and prominently, and robbed Ms. Conway not only of that opportunity, but of her labor of love and her artwork as well….Shame on you."
- Elle D.
"As a supporter of Ogham Art & Colleen Conway, I find it appallingly dishonorable that the Dublin Zoo has so obviously taken it upon themselves to make exact replicas of Ms Conway's work, literally to the brushstroke with so little regard to true artistry, disregarding copyrighted art created as well as neglecting to give credit where credit is due AND by gaining financially at her expense. You should be ashamed of yourselves." - Chris T.
"Artists are the lifeblood of the world, and your argument that the Ogham alphabet isn't "protected" is silly, and there is no way that you really believe it. This is SO reprehensible. Colleen Berry Conway's work is beautiful, you know this, which is why you've chosen to use it for your lanterns. You need to issue Colleen and Ogham Art full credit, compensation, a sincere apology and a solemn promise to never do this again to another independent artist." - Michelle D.
"It's understood that an alphabet can't be copyrighted, but the artistic use of that alphabet certainly can. How in good conscience can the Dublin Zoo steal Colleen Conway's work? The Dublin Zoo obviously liked the work enough to use it then give her credit - give her compensation." - Mary-Ellen V.
"How awful! This needs to be stopped now." - Mark M.
"I am disgusted to hear you used Ogham Art's artwork in your Wild Lights display without permission or recognition! I ask you, HOW IS THIS OKAY?!"
- Tami H.
"You owe her an apology, publicity, and probably compensation for her composition. I would hope that your institution would make this right with her, and give her the credit she is due." - Jen D.
Since 2010, Colleen and Chris Conway of Ogham Art have dedicated themselves to the hidden corners of Irish history and are committed to presenting and preserving the Ogham alphabet in unique presentations. In addition to creating original art, jewelry, home decor, and custom designs, the Conways offer lectures and workshops on the origins of the Ogham alphabet. They are locally recognized and respected through years of appearances at artisan marketplaces and Irish festivals, in digital and print media (including CT Post, Record Journal, Republican-American, and Connecticut Magazine), and on radio and television (including WATR with Tom Chute, Better Connecticut with Scot Haney, NYBERG with Ann Nyberg, and Good Morning Connecticut with Laura Hutchinson). As active members of the Irish-American community with connections to the Irish diaspora worldwide, they have organically gained over 10,000 fans and followers on social media.