IRISH-AMERICAN CULTURE & HERITAGE
NOTE: These collages were put together using images found on the internet. The intent and use is purely for educational and entertainment purposes. If you own the rights to any of these photographs and would either like credit or want the photo removed from this cultural page, please email us at info@oghamart.com.
ST. PATRICK'S DAY PARADES IN THE U.S.
St. Patrick's Day parades have been the vehicle to celebrate this special day for centuries. But just like corned beef and cabbage, the parade tradition started here in the United States before it became popular in Ireland. Here we highlight some key parades in America.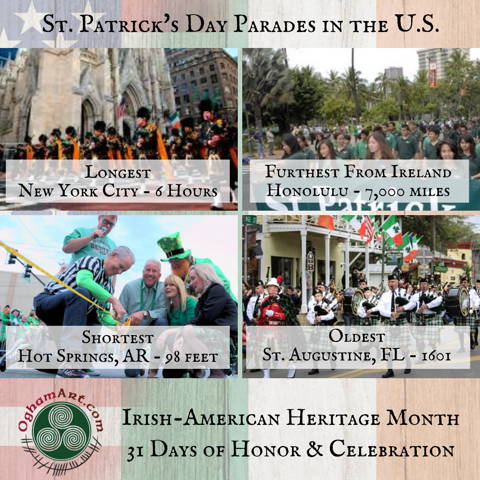 Furthest From Ireland | 7,000 Miles

IRISH FESTIVALS IN THE U.S.
According to a 2019 U.S. Census Bureau survey, 9.7% of the population - that's 32 million Americans - claim full or partial Irish ancestry. It's no wonder that hundreds of towns and cities across the states hold annual festivals to celebrate the music, dance and culture of Ireland. Here are 3 of the top festivals in the country.
Milwaukee Irish Festival | Milwaukee, Wisconsin
The Milwaukee Irish Fest in Wisconsin is home to an average of over 130,000 guests each year. The 4-day festival brings the entertainment with nearly 250 acts on 17 stages.
Celtic Classic | Bethlehem, Pennsylvania
While the Celtic Classic in Bethlehem, PA is a full Celtic festival including Highland Games, one can not overlook the authentically Irish crafts, dance and music seen there by an average of 280,000 people each year. The 3-day festival is famous for its competitions, contests and clan gatherings.
Dublin Irish Festival | Dublin, Ohio
Founded in 1988, the Dublin Irish Festival in Ohio takes up 36 acres and sees an average of more than 100,000 visitors each year. Over 1,000 volunteers put in 10,000+ hours to ensure the best 3-day weekend for everyone.
PIPE & DRUM BANDS IN THE U.S.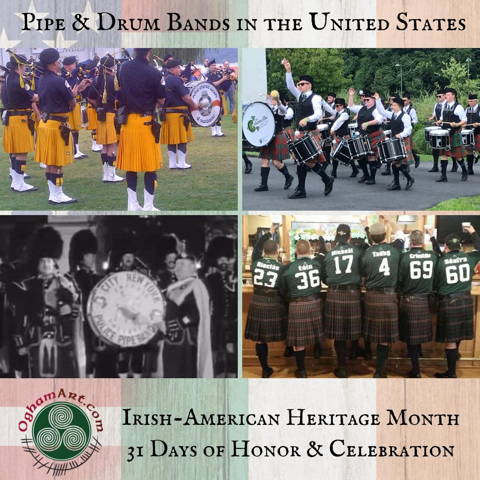 March 10 is International Bagpipe Day!
While the exact origin of bagpipes is debated, recent centuries associate the ancient woodwind with the Celtic nations. The uilleann pipe is the national bagpipe of Ireland but it is the Great Highland bagpipe we see in the hundreds of pipe and drum bands performing across the United States.
Some of our local favorites include the Pipes and Drums of the Police Emerald Society of Westchester of New York and the St. Columcille United Gaelic Pipe Band of New Jersey.

IRISH-AMERICAN HERITAGE COLLECTIONS
While the power of oral tradition is strong in the Irish, we are fortunate to have many organizations and institutions committed to collecting and preserving the history of the Irish in our country. We highlight four places that have done their part in ensuring it has accessible to all.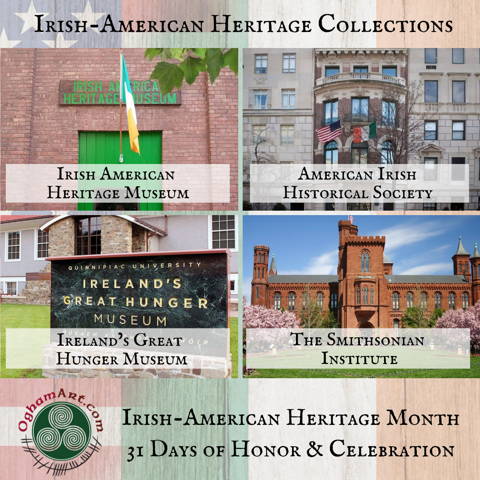 While Irish cuisine misses its fair share of influence on television, there are many Irish-American celebrity chefs who channel their heritage with humor, hard work, and the occasional recipe.
Restaurateur and food television veteran Brian "Shenanigans" Malarkey is an active member of the Irish community in San Diego and a member of the Friendly Sons of St. Patrick.
Award-winning restaurateur and South Boston native Barbara Lynch was named one of Time Magazine's Top 100 Most Influential People of the Year for her culinary contributions.
Celebrity chef and restaurateur Bobby Flay is a 4th generation Irish-American who proudly flaunts his Irish roots on his shows and menus….and head!
IRISH-AMERICAN ORGANIZATIONS
Many Irish-American organizations and fraternal orders are dedicated to promoting Irish culture here in the U.S. and supporting those of Irish birth and descent - socially and financially.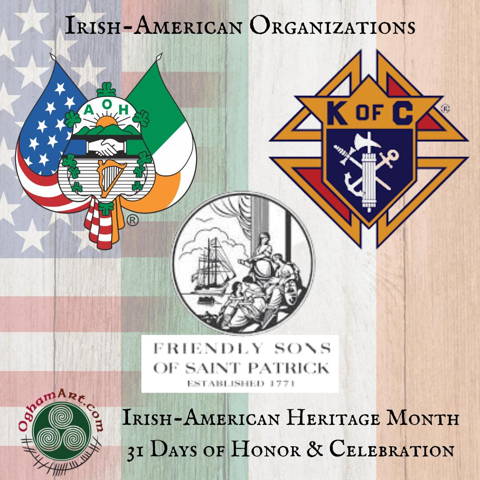 Ancient Order of Hibernians (AOH)
The Ancient Order of Hibernians, the oldest operating lay Catholic ethnic organization in the U.S., was founded in 1836 in New York City. There are over 46,000 members in 46 States, Canada and Ireland.
Founded in Connecticut in 1882 by the Blessed Michael J. McGivney, the Knights of Columbus began as a mutual benefit society for Catholic immigrants. Today there are 2 million members worldwide.
Friendly Sons of St. Patrick
With multiple independent chapters across the country, The Friendly Sons of St. Patrick was originally founded in Philadelphia on March 17, 1771. One of their missions is to "to strengthen the bonds of friendship between the people of Ireland and the United States."
IRISH & AMERICAN SISTER CITIES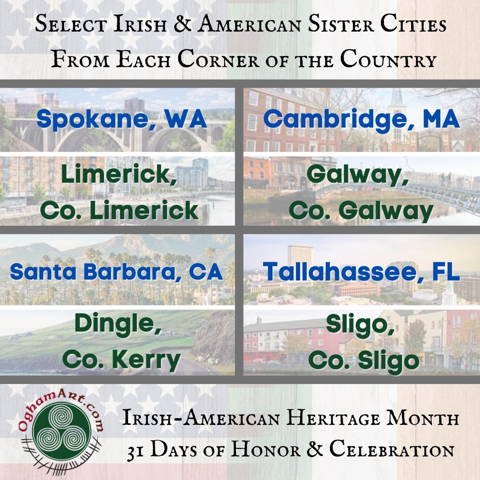 Sister cities are municipal partnerships between one city or community and one in another country.
The U.S. Embassy in Ireland lists 31 sister cities in the United States that "promote personal contact between Irish and Americans".
For a complete list of the current Irish and American sister cities, click on the link below:
MÚSEAM AN GHORTA MHÓIR | IRELAND's GREAT HUNGER MUSEUM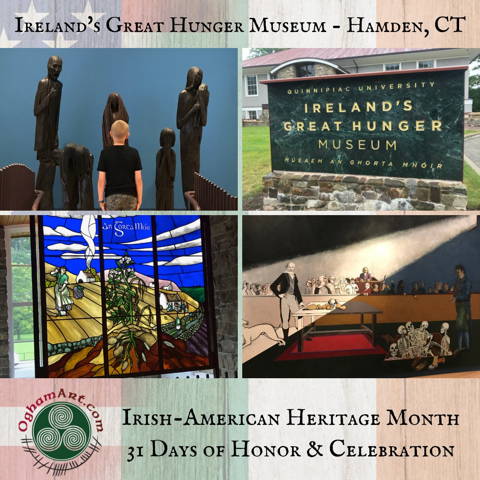 Opened in 2012 in Hamden, CT, Ireland's Great Hunger Museum (Múseam An Ghorta Mhóir) is one of the largest collections of art, artifacts and literature relating to the Great Hunger of 1845 to 1852. During this period, an estimated 1 million Irish people died and another 2 million left the island up through 1855. This mass emigration resulted in the Irish making up more than half of all immigrants in the United States. In a 2019 census, 32 million Americans claimed Irish ancestry. A devastating chapter in Ireland's history led to the generations of Irish-Americans who have shaped this country.
2022 UPDATE: The future of IGHM remains uncertain. Please visit Save Ireland's Great Hunger Museum to learn more about the efforts to reopen the museum and keep the collection in tact.
BOBBY SANDS CIRCLE | HARTFORD, CT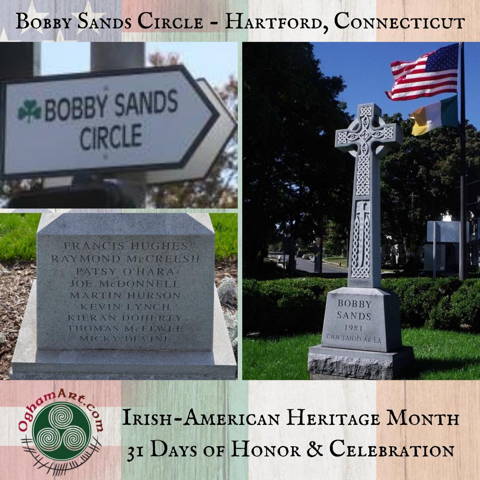 Robert Gerard Sands was born on March 9, 1954.
On May 5, 1991 - 17 years after his death during the 1981 Hunger Strike - a memorial was dedicated to Sands and other hunger strikers near Goodwin Park in Hartford, Connecticut. The first monument of its kind in the United States, the funds were raised by Irish Northern Aid, "an American based membership organization that supports through peaceful means, the establishment of a socialist and democratic 32-county Ireland."
Bobby Sands Circle, as it is known, is located 17 miles from the Ogham Art Studio.
NATIONAL GENEALOGY DAY | MARCH 13
March 13 is National Genealogy Day!
Exploring our heritage and ancestors has been a passion of ours for years. Our Irish roots originate in Armagh, Donegal, Kerry & Westmeath.
Pictured clockwise from top left:

Chris' Ancestry DNA results

Colleen's great-grandmother and daughter from County Kerry and great-grandfather from County Westmeath

Painting of Chris' ancestral home in Ballyara, Killybegs painted by his Aunt Linda in 1997

Chris' great-grandmother from County Donegal with the aforementioned Aunt Linda as a little girl
OGHAM ART FOUNDERS | COLLEEN & CHRIS CONWAY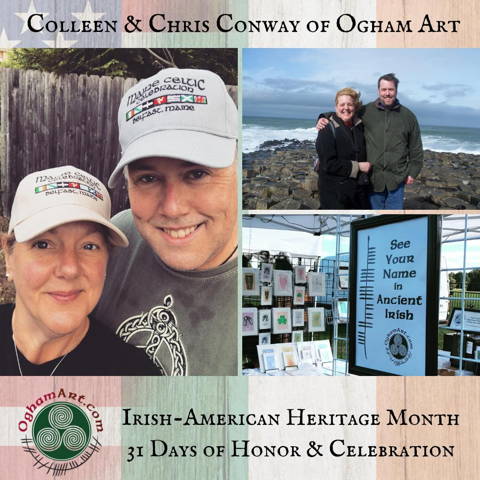 Albeit gratuitous, this couple of proud Irish-Americans makes the list of those dedicated to promoting Irish culture in the U.S.
Ogham Art was founded in 2010 out of a love of Ireland and the hidden corners of its history. Our mission was to present and preserve the beautiful writing system of Ogham in unique presentations.
Little did we know when we began this artistic and entrepreneurial journey that we would play such an important role in introducing Ogham and Celtic culture to so many.
It is an honor to be admired and trusted by our thousands of customers and friends on social media.