IRISH-AMERICANS IN SPORTS
NOTE: These collages were put together using images found on the internet. The intent and use is purely for educational and entertainment purposes. If you own the rights to any of these photographs and would either like credit or want the photo removed from this cultural page, please email us at info@oghamart.com.
Athletes of Irish descent have achieved greatness in every professional sport from basketball to hockey to wrestling. Here are just 4 ranging from the 1930s to Super Bowl LV.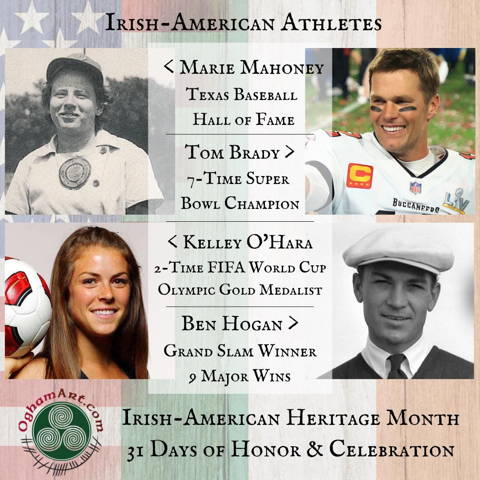 All-American Girls Professional Baseball League (1947-48)
Texas Baseball Hall of Fame (2006)
7-Time Super Bowl Champion (XXXVI, XXXVIII, XXXIX, XLIX, LI, LIII, LV)
5-Time Super Bowl MVP (XXXVI, XXXVIII, XLIX, LI, LV)
3-Time NFL Most Valuable Player (2007, 2010, 2017)
2-Time FIFA Women's World Cup Champion (2015, 2019)
Masters Tournament (1951, 1953)
PGA Championship (1946, 1948)
U.S. Open (1948, 1950, 1951, 1953)
The Open Championship (1953)
IRISH-AMERICANS & MAJOR LEAGUE BASEBALL
America's pastime has been immortalized by the written word for over a century. Some of the most dedicated and talented baseball writers have strong ties to the Emerald Isle.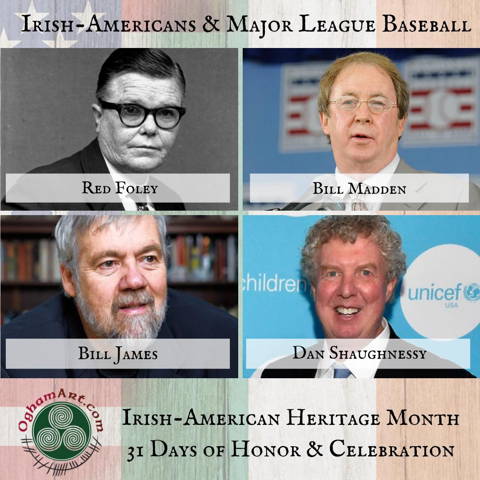 Red Foley was a sportswriter for the New York Daily News for 34 years and was an officer of the Baseball Writers' Association of America. He was the longest-serving official scorer of MLB with over 3,000 games including 10 World Series. (Irish American Baseball Hall of Fame Class of 2008)
Longtime columnist for the New York Daily News, Bill Madden is a member of the Baseball Writers' Association of America. He has covered over 30 World Series and won the BBWAA Career Excellence Award in 2010. (Irish American Baseball Hall of Fame Class of 2013)
Baseball writer and statistician Bill James was named one of the most influential people in the world in Time magazine's "Time 100" list in 2006. Author of more than two dozen books, the "Bill James Handbook", published annually since 2003, is the most comprehensive annual baseball book available. (Irish American Baseball Hall of Fame Class of 2010)
Dan Shaughnessy has covered the Boston Red Sox for The Boston Globe since 1981. He has authored over 10 books about baseball and received the BBWAA Career Excellence Award in 2016. (Irish American Baseball Hall of Fame Class of 2013)