IRISH-AMERICANS IN THE PERFORMING ARTS
NOTE: These collages were put together using images found on the internet. The intent and use is purely for educational and entertainment purposes. If you own the rights to any of these photographs and would either like credit or want the photo removed from this cultural page, please email us at info@oghamart.com.
IRISH-AMERICAN ACADEMY AWARD WINNERS
Since 1928, there have been 69 Irish and Northern Irish-born men and women nominated for an Academy Award with 11 of them winning the Oscar. When it comes to Americans with Irish ancestry who have been nominated for the Academy Award, the list is practically endless! Here are some of our favorite winners!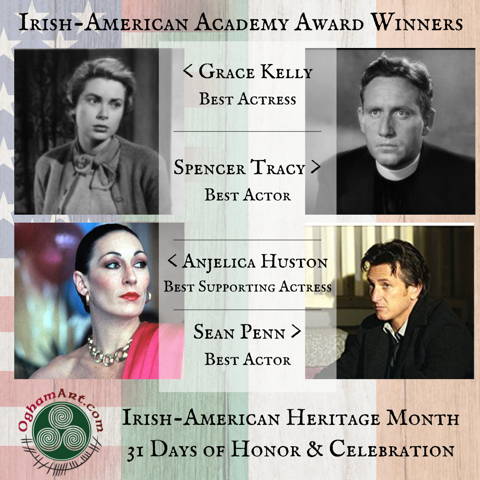 Best Actress The Country Girl (1954)
Best Actor Captains Corageous (1937)
Best Actor Boys Town (1938)
Best Supporting Actress
Prizzi's Honor
(1985)
1 Best Actress nomination
2 Best Supporting Actress nominations
Best ActorMystic River(2003)
IRISH-AMERICAN GRAMMY WINNERS
When we think of Irish Grammy Award winners, we immediately think of U2 with their 22 wins from 46 nominations. Americans with Irish descent have won Grammys across several genres of music over the decades. Here are 4 of our favorites - past and present.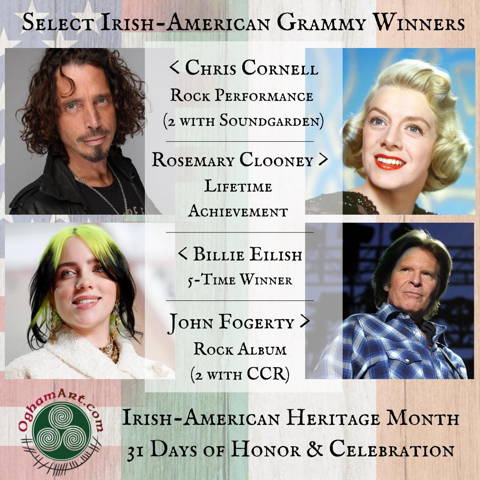 Rock Performance (2 With Soundgarden)
Rock Album(2 With Creedence Clearwater Revival)
IRISH-AMERICAN FILM DIRECTORS
We recognize the faces of many Irish-Americans on the big screen but what about what happens behind the camera? Here are four Irish-American directors and their contributions to the film industry.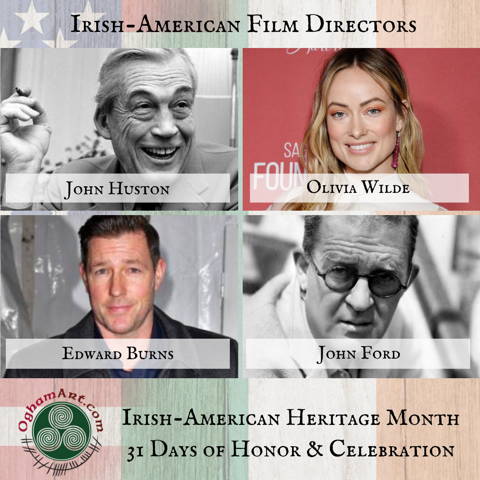 John Huston was the winner of more than 30 major association awards including Lifetime Achievement Awards from the Directors Guild of America and the American Film Institute. Huston moved to Ireland in 1951 and in 1964, he renounced his American citizenship and became an Irish citizen ''to get back to the roots of my ancestors."

Known for her roles on the big and small screens, Olivia Wilde made her directorial debut in 2019 with Booksmart and scored a 96% fresh on Rotten Tomatoes. She holds dual citizenship in the U.S. and Ireland and chose Oscar Wilde as the inspiration for her stage name.
Known for his Irish-American characters and storylines, Edward Burns won the Sundance Film Festival Grand Jury Prize Dramatic in 1995 for The Brothers McMullen. His parents, Ed Sr. and Molly, have roots in Cork and Westmeath.
Directing over 150 films in more than 50 years, John Ford is considered one of the greatest directors of all time. Born John Martin Feeney in Maine, Ford's parents emigrated from County Galway in 1872.
IRISH-AMERICANS ON TELEVISION
Irish-Americans have entertained the masses on the small screen for decades. Here are just four of the talents we have enjoyed on television.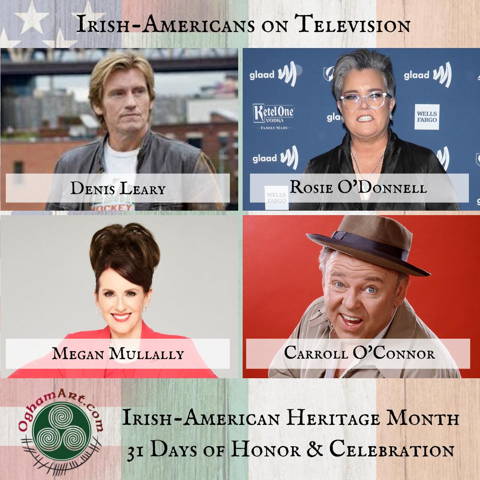 Actor and comedian Denis Leary is well-known for his 7 seasons on "Rescue Me" as protagonist Tommy Gavin. Leary's parents were immigrants from County Kerry.
Daytime Emmy-winner Rosie O'Donnell has travelled the small screen for nearly 30 years. O'Donnell's father emigrated from County Donegal as a child and her mother was of Irish descent.
A talented actress, singer and comedian, Megan Mullally is admired for her 11 seasons as the shrill Karen Walker on "Will & Grace". Mullally's Irish roots go back to her great-grandparents who emigrated from Ireland.
Best known as the gruff Archie Bunker from "All in the Family", Carroll O'Connor's earned his BA in Irish history and English literature at the National University of Ireland. O'Connor's grandfather was the founder of the Irish Advocate newspaper in New York.
IRISH-AMERICAN LATE NIGHT HOSTS
The 3 kings of contemporary late night American television are mighty proud of their Irish roots. The gift of gab and Irish wit is abundant in our featured late night entertainers.
Jimmy Fallon's Irish ancestors first settled in New Jersey in 1841 from County Galway.
Team Coco? Well, we've all heard the story about his 100% Irish DNA test.
All but one of Stephen Colbert's great-great grandparents were either born in Ireland or had Irish roots.
March 19th is National Let's Laugh Day and the perfect time to celebrate the wit and humor of some well-known Irish-American comedians.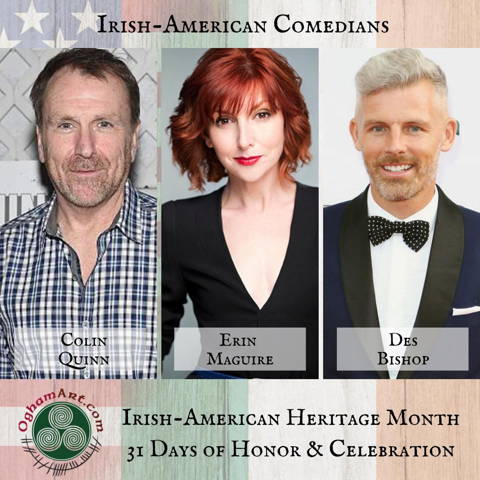 Raised in Brooklyn with Belfast roots, Colin Quinn has years of television and stage appearances including his solo show, "Colin Quinn: An Irish Wake".
Erin Maguire is a stand-up comic, actor, and writer based in New York City. She hosts the "Dear Pod" podcast with fellow Irish-American Patrick O'Brien.
Des Bishop was raised in Queens, NY, spent his high school years (and then some) in Ireland, and now has residences in both places. From TV to stand up, his humor celebrates the highs and lows of Irish life.
When the Irish emigrated to America, they left behind many horrors such as starvation, violence and conflicts. Luckily, they brought their rich culture and traditions, especially Irish dance. Today there are hundreds of dance schools in nearly all 50 states.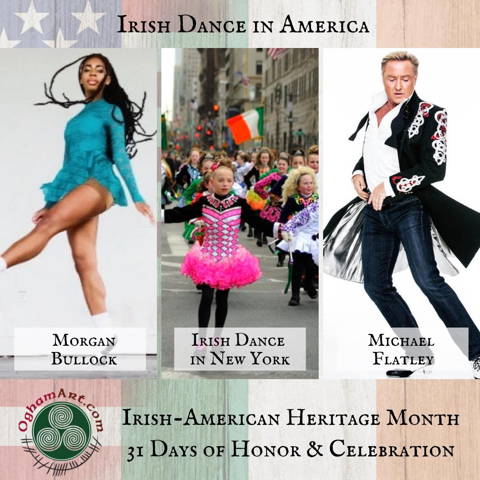 College student Morgan Bullock of Virginia took the internet by storm in May 2020 when her dance performance went viral on Tik Tok and Instagram. Discovering Irish dance at the age of 10, Morgan placed 43rd at the 2019 World Irish Dancing Championships.
It's no surprise that the state of New York has the most Irish dance schools of any state in the country with approximately 40 schools. Nearly 13% of the 19.5 million residents claim Irish ancestry compared to the rate of 11.1% of the country overall.
Michael Flatley was the first American to win a World Irish Dance title in 1975 and created "Lord of the Dance'' after leaving "Riverdance" in 1995. A native of South Side Chicago, Flatley's parents emigrated from Sligo and Carlow.
IRISH-AMERICANS IN THEATRE
March 27 is World Theatre Day. Take a moment to recognize the contributions of four select Irish-Americans who enhanced our love of theatrical performances on the stage.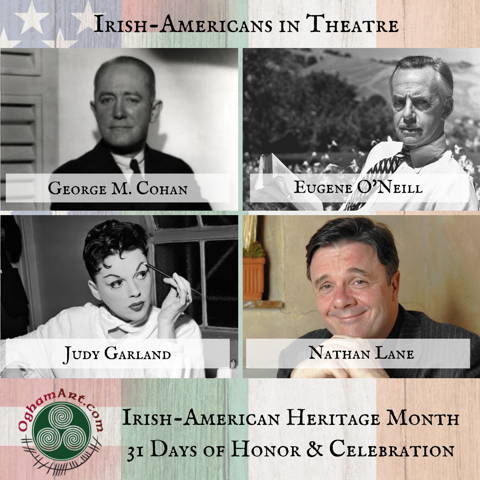 George M. Cohan was considered "the greatest single figure the American theatre ever produced". Cohan's parents were both Vaudeville performers - his mother a Breen and his father a O'Caomhan (Keohane) with lineage from County Cork.
Eugene O'Neill was the recipient of multiple theatrical awards including two Tony Awards, four Pulitzer Prizes, and a Nobel Prize in Literature. O'Neill was the son of Irish immigrant actor James O'Neill and Mary Ellen Quinlan, who was also of Irish descent.
Judy Garland broke all box office records with her 19-week stand at the Palace Theatre in New York City for which she won a Special Tony Award in 1952 for her contributions to the revival of Vaudeville. Judy's maternal line, the Baugh family, arrived from Ireland in the early 1700s.
Nathan Lane has performed in nearly 50 Broadway and Off-Broadway productions since 1981 resulting in 3 Tony Awards, 6 Drama Desk Awards, and 2 Obie Awards along with many others. Both of Lane's parents were Catholics of Irish descent.
IRISH-AMERICAN ON THE FIDDLE
The violin is the instrument of multiple genres from classical to jazz to folk. The genres break down even further within, especially when it comes to folk music - Appalachian, Bluegrass, Old Time and, of course, Irish. From the talented fiddle players across the country, we highlight three.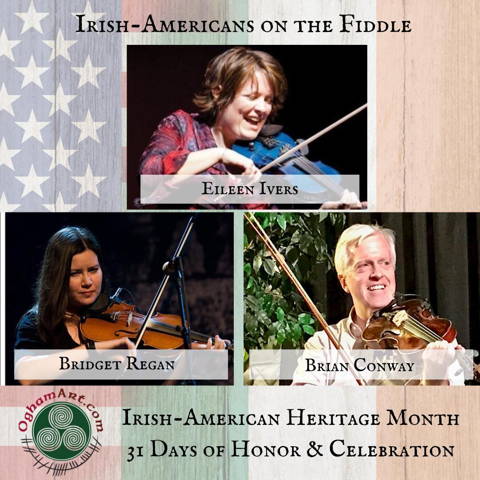 Eileen Ivers began playing the fiddle at the age of nine. The child of Irish immigrants, she summered in Ireland and has entertained for over 30 years as a solo performer as well as with Mick Moloney's band, Cherish the Ladies and Riverdance.
Bridget Regan plays fiddle, tin whistle and sings backing and lead vocals for Flogging Molly. Classically trained, Bridget has fused traditional Irish and Celtic punk for over 20 years.
Brian Conway is the winner of multiple All Ireland medals including Under 12 Championship as a child and Senior Championship in 1986. His parents were born in County Tyrone.