IRISH-AMERICANS IN LITERATURE
NOTE: These collages were put together using images found on the internet. The intent and use is purely for educational and entertainment purposes. If you own the rights to any of these photographs and would either like credit or want the photo removed from this cultural page, please email us at info@oghamart.com.
AWARD-WINNING IRISH-AMERICAN WRITERS
Irish-American writers contribute to the robust literature of our country with humor, tragedy, and compassion. The list of influential and award-winning writers claiming Irish ancestry is impressive! Here are 4 writers who have made a lasting impact - in books and on stage.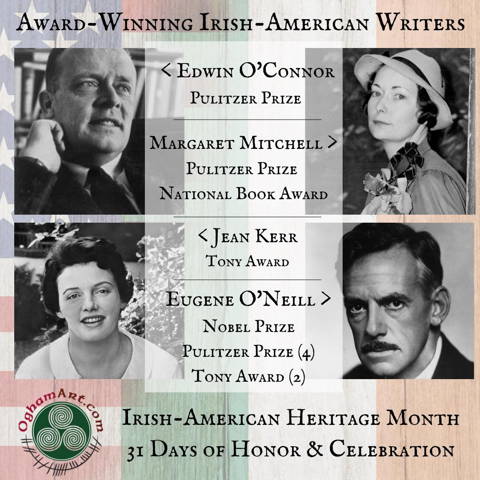 Pulitzer Prize for Fiction 1962
The Edge of Sadness (1961)
National Book Award for Most Distinguished Novel 1936
Pulitzer Prize for Fiction 1937
Gone With the Wind (1936)
Tony Award 1961
King of Hearts
Nobel Prize in Literature 1936
Pulitzer Prize for Drama
Beyond the Horizon (1920)
Anna Christie (1922)
Strange Interlude (1928)
Long Day's Journey into Night (1957)
Tony Award
Long Day's Journey into Night (1957)
A Tough of the Poet (1959)
A Note About Eugene O'Neill: Since 1956, the Royal Dramatic Theatre of Sweden has annually bestowed the Eugene O'Neill Award, a scholarship for Swedish theater actors. The Eugene O'Neill Foundation, Tao House in Danville, CA grants several annual awards including Tao House Award, Open Gate Award, Artistic Award, Freeman Award and Partnership Award.
WRITE YOUR STORY DAY | MARCH 14
March 14 is Write Your Story Day! The Irish-American experience has appeared in memoirs and autobiographical novels for over a century. These poignant stories live with their readers forever.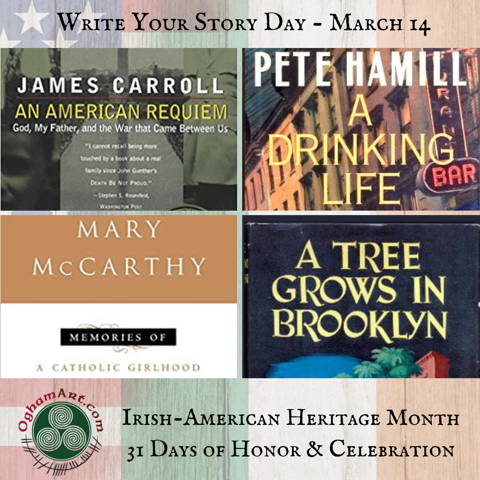 An American Requiem James Carroll
"A tragic, moving book about a family torn apart by the Vietnam War, a young man looking for God, a writer finding his voice." - Boston Magazine
A Drinking LifePete Hamill
"Magnificent. A Drinking Life is about growing up and growing old, working and trying to work, within the culture of drink." - Boston Globe
Memories of a Catholic GirlhoodMary McCarthy
"This unique autobiography begins with McCarthy's recollections of an indulgent, idyllic childhood tragically altered by the death of her parents in the influenza epidemic of 1918." - Goodreads
A Tree Grows in BrooklynBetty Smith
"The beloved American classic about a young girl's coming-of-age at the turn of the twentieth century." - Barnes & Noble
WORLD POETRY DAY | MARCH 21
March 21 is World Poetry Day and what a perfect day to take a look at some of the award-winning and influential American poets of Irish heritage.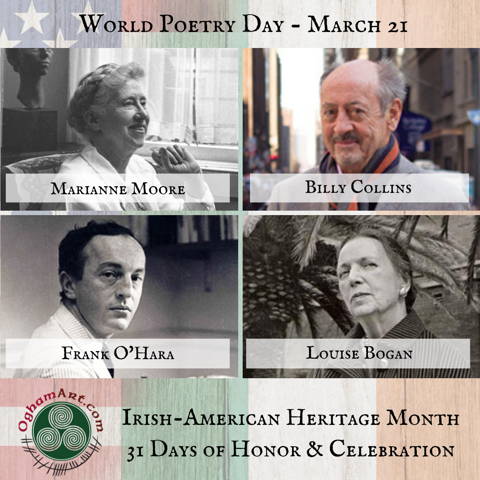 Considered one of the most accomplished modernist poets, Marianne Moore's "Collected Poems" won the National Book Award and Pulitzer Prize for Poetry in 1952. Of her heritage, Moore said, "I am Irish by descent, possibly Scotch also, but purely Celtic."
Billy Collins is the recipient of multiple awards and honors including serving as the United States Poet Laureate from 2001 to 2003. Raised in New York, Collins' paternal family emigrated from Ireland.
A prominent figure in the New York School in the 50s and 60s, Frank O'Hara was born to parents with strong Irish roots. "The Collected Poems of Frank O'Hara" won the National Book Award for Poetry in 1971, five years after O'Hara was struck and killed by a vehicle at the age of 40.
Louise Bogan was the first woman to hold the title of Poet Laureate to the Library of Congress when appointed in 1945. Of Irish descent on both sides, Bogan was poetry editor of The New Yorker from 1931 to 1969.